Authorized Dealers for Diamond® Chains & Sprockets, Authorized Dealers for Rolex® PIV Industrial Chains, Manufacturers of V Pulley & Sprockets, Dealers of Pulley Blocks Conveyor Chains & Link Chains
Home – Original roller conveyor chains & sprockets in Chennai
concise, immediate response
prompt response in working hours
Landing – Original roller conveyor chains & sprockets in Chennai
Original roller conveyor chains & sprockets in Chennai
One of the most pertinent criteria for a customer is to buy from a trustworthy place. (S)he knows often what/when/why to buy, but "Where?" This reasoning is why at Chain Centre we take this "Where?" question very seriously. To ensure we cater to customer segments looking to buy original roller conveyor chains & sprockets, we pioneered the industry in the previous decade to offer consistent convenience, quality & service in our products, and our growing market numbers walk this talk. We are authorized dealers/suppliers of Diamond roller chains, manufacturers of custom sprockets & dealers of conveyor chains, links, locks, and pulleys.
Our journey started in the year 1977 in Chennai, then called Madras, a major southern coastal port city of India. Being one of the four metros in India, this city has had a special connection in our narrative. Its cultural influences, language, and hospitality have been some of the key factors in our success in this trade.
From humble beginnings to a leading company in our field, we have been delivering targets promised to our customers since our inception by keeping a customer-centric process that focuses on their end requirement rather than on the invoice. We go a step ahead to understand the customer requirements and compliment the same with our response having the right product fit, and supply that is known for being quick and affordable.
Our products are widely used in various industries such as Automobile, Agriculture, Transport & Logistics, Industrial Manufacturing, Food Processing, and Construction & Mining being the top picks.

We deal primarily in original roller conveyor chains & sprockets in Chennai, chain locks, chain links, and pulleys. We are Authorized Dealers & Distributors of Diamond Industrial Chains, a leading chain manufacturer in India.
Our products are highly appreciated by our clients for their superior quality, ease of use, low maintenance, compact design, perfect finish, corrosion resistance, and durability. In addition to this, we offer these products in various specifications detailed by our patrons to fulfill their vast requirements.
Do experience our award-winning team to help you get the best deal for your product, episodes which our valuable clients frequently vouch for.
Why Us? – Original roller conveyor chains & sprockets in Chennai
Positioning
Our mission and practices rely on three stringent pillars which we call 3C's. These policies provide us an edge over our competitors and allow us to differentiate ourselves.
Convenience to the Customer: To adopt measures and techniques that empower the client and make their process considerably easier.
Consistency in Practice: To ensure all attributes of our business is consistent with time. Consistent quality over scale.
Cultural Conformity: To understand and respect different cultures that we encounter in the business sphere.
We strive to serve anyone who wants to buy or purchase or were looking for suppliers of industrial goods such as roller conveyor chains, sprockets, or pulleys in Chennai, aiming for a result that anybody who has asked "where to buy original roller conveyor chains & sprockets in Chennai" should get an opportunity to experience our hospitality.
100% Original Quality Products / Assured peace of mind 
Wide Distribution Network / Best Price Points
Authorized Dealers / Easy Payment Modes
Promised Quality / Long Lasting Products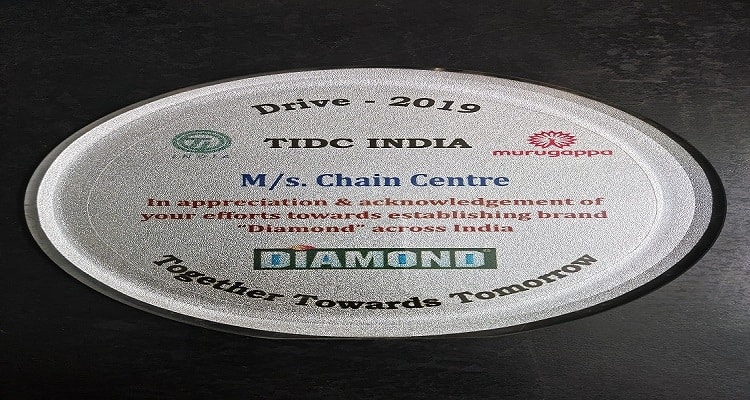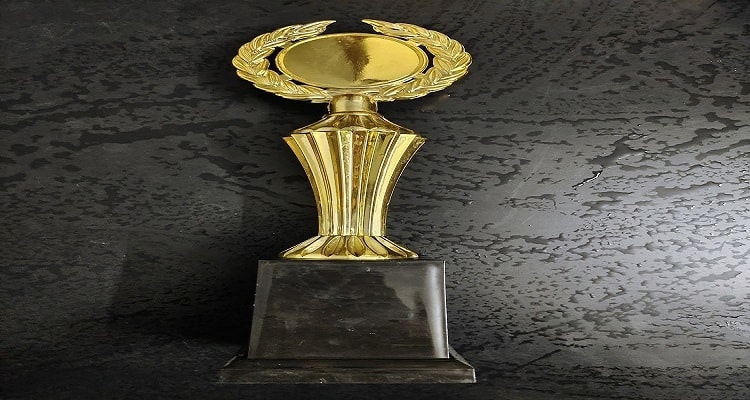 Vendor Management
We have an uncompromising vendor management system to ensure quality reaches our clients by walking the talk. Our vendors/suppliers go through strict 3-Step quality control checks spanning Selecting, Monitoring, and Maintaining. This vendor management system uses metrics including quality standards, pricing structure, volume fulfillment, policies, history of compliance, etc. Once obtained, the performance is monitored by analyzing key KPIs such as quality, services & compliance. We also ensure we step up and maintain cordial business relationships by understanding different cultures & requirements so that this supply chain has a firm base in the long term and creates a win-win scenario every time on both sides, plus ensuring the customer only experiences original roller conveyor chains & sprockets in Chennai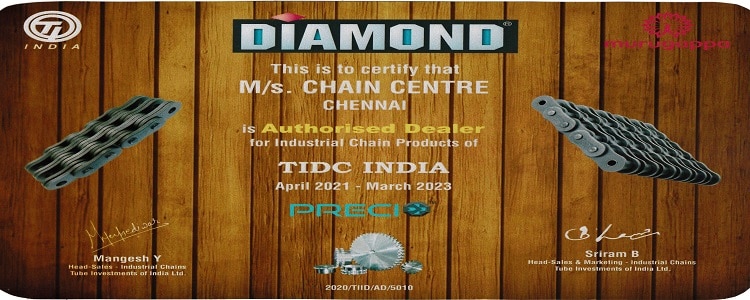 Bharat Heavy Electricals Ltd

Colgate-Palmolive India Ltd

Neyveli Lignite Corp

India Cements Ltd

DCW Ltd
BASIC DISCLOSURE:
Nature of Business: Distributors/Retail Trade Dealers/Exporters
Industry: Industrial Hardware
Year of Establishment: 1977
Location Type: Urban
Building Infrastructure: Permanent
No. Of Employees: Up to 10 people
STATUTORY PROFILE:
GST: 33AAAFC0558K1ZP
Import/Export Code: 04100*****
DISTRIBUTION INFORMATION:
Payment Modes:  Online Transfers / Cash / Cheque
Bankers: HDFC Bank, Kotak Mahindra Bank, Indian Bank
Freight Shipment  Mode: Sea, Road, Air
136, Linghi Chetty Street, Parrys,
Chennai 600001, TN, INDIA
Contact – Original roller conveyor chains & sprockets in Chennai
concise, quicker than email, immediate response
Enquire – Original roller conveyor chains & sprockets in Chennai